Choose from two professional cyclorama production studios.
Our studios are commonly used for music videos, corporate commercials, company demonstration videos, food demonstration videos and more. Due to the cyc ('psych') walls (no hard corners), professional lighting system and soundstage availability, people find these studios widely accessible and versatile. Feel free to come in for a free tour before you commit. 
Both studios offer live streaming capabilities. A switcher package is also available, allowing live previews of green screen keys. Grip and lighting packages are available as well. We have experts in-house and freelance references should you need to hire some extra hands. 
Studio 1
Studio 1 is our full-size drive-in soundstage.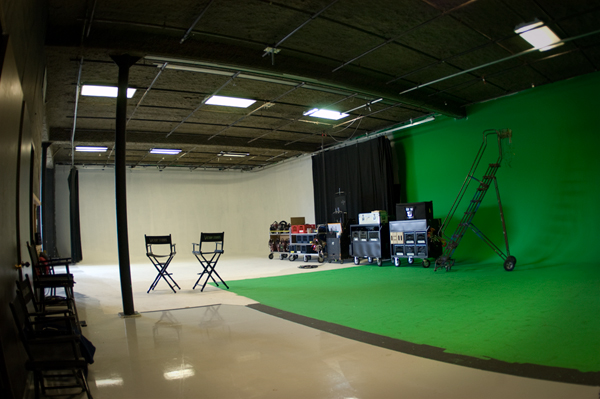 Studio 1 has a 61′ by 34′ hard cyclorama wall for a total nearly 2,600 square feet of shooting space. The cold lighting grid is 14′ from the floor. There is direct outside access to the studio through a 12.5′ high by 13′ wide drive-in door with soundproof closure. 
In addition:
Full kitchen

Two complete dressing rooms

Restrooms

200 Amps-three phase power supplied via an OSHA approved positive locking power tie-in.

 
PRICING FOR STUDIO 1
Shoot Day 8am-5pm - $850
Shoot Day 8am-5pm with space and Cyc Lights - $950
Pre-Light Day 8am-5pm - $525
Quiet Wind Fan machine add-on - $60
Painting Fee - Call for Quote
Call for additional lighting options!
Studio 1 Specs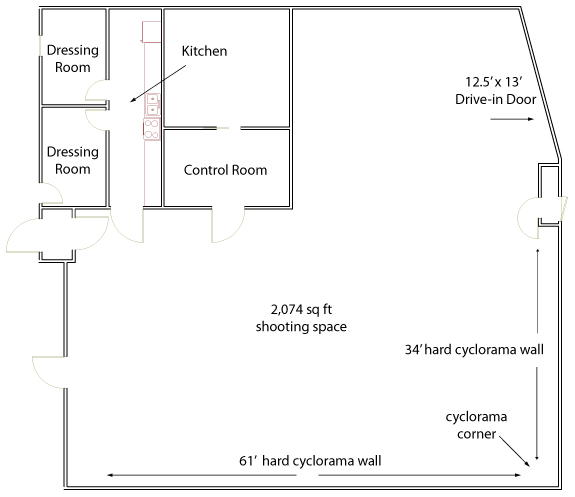 Studio 2
Studio 2 is perfect for straight-forward, greenscreen video production.
Studio 2 has an 18′ cyclorama wall. The high lighting grid is 14' off the ground with prehung cyc lights and switchable Key & Fill lighting options. The studio is usually ready to go as a green screen stage.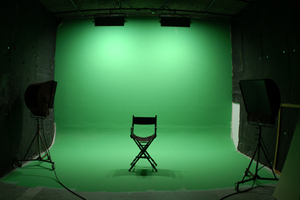 PRICING FOR STUDIO 2
Shoot Day 8am-5pm - $450
Shoot Day with Cyc Lights 8am-5pm - $625
Shoot Half-Day (Up to 4 Hours) - $340
Shoot Half-Day with Cyc Lights (Up to 4 Hours) - $470
Quiet Wind Fan machine add-on - $60
More Questions? Click here to reach out to our Rentals Department!