Bright Tangerine DNA Mattebox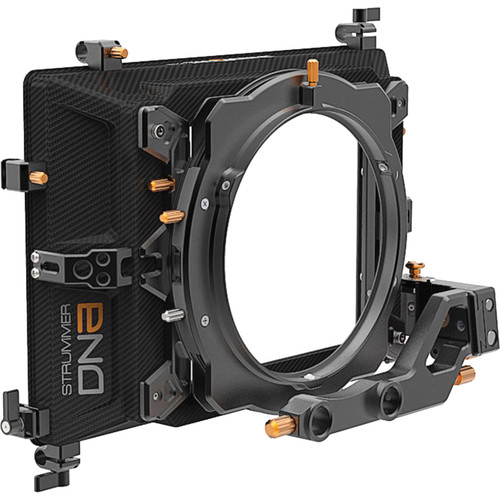 $50.00/Day
$200.00/Week
Description
The Strummer DNA from Bright Tangerine is a reconfigurable matte box that allows you to switch out one filter stage assembly (cassette) for another one with stages of a different size. Whereas traditionally filter stage assemblies are fixed within the matte box, Strummer DNA allows you to swap one out for another in just moments, in effect allowing you to use one matte box to perform the job of multiple ones. When you need 6" filters, you can simply swap in a 6 x 6" cassette. Strummer DNA offers a 143mm diameter when using 5.65" stages, and 165mm diameter when using 6.6" stages. It'll support 14mm Cooke lenses in 3 PV stages, and will cover a 12mm Master Prime with a 6" stage.
The stages in the cassettes are individually stacked up one on top of another, and you can attach additional, single-stage expansion packs to the stack. At the click of a button, the individual stages are easily separated. One of the benefits of this is that the stages become very easy to clean since each one can be handled separately, whereas normally filter stages are more difficult to clean when they get clogged up. All the stages are rotatable 360 (with the exception of certain cassettes).
This Strummer DNA Kit 1 includes a core frame with a carbon fiber shade, 5.65" 2-stage cassette, swing away slide bracket and 15mm LWS arm for swing away functionality, top flag mounts, and side 3/8" mounts.
Strummer DNA side flags, sold separately, feature dual variable blades that can be tucked in between top and bottom flags, also sold separately, so that the top and bottom flags can be closed beyond the traditional 90. Strummer DNA also supports an optional A.R.F. tilt block that enables backward/forward tilt up to 15 to prevent filter reflections.
Specs
Diameter: 165 mm (6.6" cassette); 143 mm (5.65" cassette)
Material: Carbon fiber and hard anodized aluminum
Dimensions: 3-Stage Configuration: 10.9 x 7.6 x 3.4" (27.7 x 19.4 x 8.6 cm)
Weight: 5.65" 2-Stage Configuration: 2.2 lb (1 kg) (inc. filter trays)
5.65" 3-Stage Configuration: 2.6 lb (1.2 kg) (inc. filter trays)
6.6" 2-Stage Configuration: 2.5 lb (1.15 kg) (inc. filter trays)
6.6" 3-Stage Configuration: 3 lb (1.35 kg) (inc. filter trays)