Kessler Pocket Dolly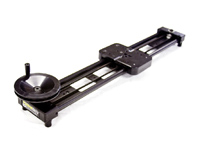 $60.00/Day
$240.00/Week
Description
Want to get smooth, consistent, short-run dolly shots, without having to carry around a dolly system and track? The Pocket Dolly is the solution for those shots! At just 38.5" in length and 7.5 pounds, the Pocket Dolly is very portable, so you can always get the shot you need, where ever you are. The unique crank handle and belt drive system, allow for approximately 31" of quiet, consistent, smooth camera movement. Cameras weighing up to 15 pounds are supported.
Changes in Version 2.0:
* No IGUS components.
* 100% custom CNC machined firm rail to reduce or eliminate flex.
* Ball bearing wheels for silent, smooth, & frictionless carriage movement, that will not "bind".
* Compatible with Kessler 100mm High Hat.
The Pocket Dolly v2.0 is smoother than other linear sliders due to our ball bearing wheel design and the carried inertia provided by our handle and belt drive system that gives it a more fluid feel than other sliders.
Plus, with the belt drive you have the option to go to full automation with our elektraDRIVE system that boasts features like time lapse, memory/motion playback, digital dampening and many more options that will make getting that perfect shot easy. Visit the various industry forums and ask about the Pocket Dolly and you will find from first hand users, that we offer the best slider on the market today!
Be sure to order the camera mounting option of your choice. We have learned over time that different customers require different camera mounting options. For this reason, the Pocket Dolly comes ready to accept various mounting options from quick release assembly to flat mount adapters to attach a fluid head. You will need choose the mounting option of your choice, to mount a camera to the Pocket Dolly.
If mounting the Pocket Dolly to a standard fluid head and tripod via a quick release plate, rather than to the Hercules 2.0 head, we recommend using additional support, like a small light stand or monopod.
If you are looking for a slider with more features and higher weight capacity that will work with cameras ranging for lightweight HDSLR cameras like the Canon 5DmkII to heavier cameras like the RED ONE or 35mm adapter rigs, check out the Kessler CineSlider.
Technical Specs
* - Length: 38.5" (97.8cm)
- Weight: 7.5 lbs (3.4kg)
- Travel: 31" (78.7cm)
Specs