AntonBauer Titan TWQ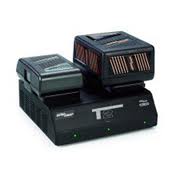 $26.25/Day
$105.00/Week
Description
The TITAN TWQ is a four position simultaneous InterActive charger which deliversthe ability to charge FOUR batteries at the same time, conveying the full complement of batteries up to 4 times faster than some sequencing type chargers.
Focusing the full capability of the efficiency of the TITAN power architecture on battery charging, the TWQ uses all the charge termination techniques of the field proven InterActive system to service any of the Anton/Bauer Gold Mount batteries quickly, reliably, and safely.
Simultaneous charging means that all batteries on the charger will be completed in the time shown on the chart on page 8 (e.g. four ProPac batteries will be charged in 3 1/2 hours) versus sequencing the batteries one at a time.
Specs
Other: Diagnostics: Automatic Charge Termination Interactive Charge Program
Power Supply: None
Battery Bays: Four
Charging Type: Simultaneous
Connections/Interface: Gold Mount Type x 4
Power Requirements: 90-250 volts wide range input
Dimensions (WxHxD): 11.5" x 8" x 3" /29.2cm x 20.3cm x 7.6cm
Weight: 3.5 lbs. (1.63kg)