Canon C300 Mark II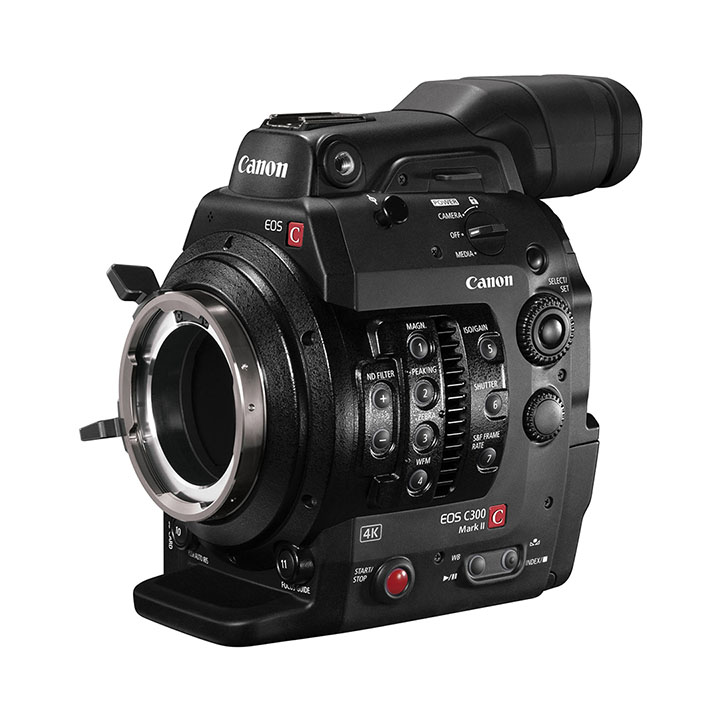 $250.00/Day
$1000.00/Week
Description
The Canon C300 Mark II PL Mount Cinema Camera with Dual Pixel CMOS AF has improved upon its predecessor, the Canon C300 PL Mount Cinema Camera, with internal 4K shooting, expanded built-in neutral density filer stops, and increased light sensitivity. It features faster and more accurate autofocusing thanks to Dual Pixel CMOS AF technology, which deploys two photodiodes within each sensor photosite for powerful phase detection that ultimately helps ensure that proper focus is always maintained, even in unpredictable "run and gun" news or documentary-type shooting situations.
In addition to internal 4K and 4K RAW output, the C300 Mark II also supports super slow motion shooting at 120 FPS when in Slow & Fast Recording mode at a cropped 2K or HD. Simultaneous recording at different resolutions/frame rates can be done both internally with CFast cards (not included) and externally with recorders, like the Video Devices PIX-E7 7" 4K Recording Video Monitor (not included).
Canon Log Gamma 2 was designed specifically for this camera's 10-bit recording capabilities. It is ideal for color correction/grading in post production and can provide a dynamic range up to 1600%. To create digital files robust enough for major post production work, the C300 Mark II delivers high image quality with its XF AVC Codec an H.264 format wrapped in the widely-supported MXF wrapper. The C300 Mark II offers a compact and modular design with a bright 1.55MP EVF and a removable 4" LCD monitor with control panel. It boasts a logical dial layout with backlighting and can be rigged up or stripped down according to your production needs. The dust-proof and splash-proof design includes sealing gaskets around the edges of all access covers, dials fitted with o-rings on the axis of rotation, and button key-tops sealed with rubber. The built-in cooling system ensures the camera runs cool and, therefore, quietly. The C300 Mark II is designed with filmmakers' needs in mind and is ideal for documentarians, journalists, wedding and event shooters, corporate work, and independent movie makers.
***Please note that thisa is the PL Mount version.***
Specs
- Sensor: 9.84MP Super 35mm CMOS
- Recording Format: MXF Wrapper (MPEG-4 AVC/H.264, Intra-Frame or Long GOP)
- Video: 4K RAW (Output Only), 4K and 2K (Internally, See Notes), UHD
- Frame Rate:
4K
59.94p, 59.94i, 50p, 50i, 29.97p, 23.98p, 25p, 24p (Long GOP, 50 Mbps / Intra-Frame, 410 Mbps, 310 Mbps, 225 Mbps, 210 Mbps, 160 Mbps)
2K
59.94p, 59.94i, 50p, 50i, 29.97p, 23.98p, 25p, 24p (Long GOP, 35 Mbps, 24 Mbps)
1080p
59.94p, 59.94i, 50p, 50i, 29.97p, 23.98p, 25p, 24p (Long GOP, 35 Mbps, 24 Mbps)
- ISO Range: 100-32000 (102400 Expanded)
- Ports: 3G-SDI and HD-SDI for REC OUT and External Monitor (MON) and 4K RAW Output, HDMI (Type A) Out, ? Headphone, ? Microphone, Genlock In/Sync Out (BNC), Time Code In/Out (BNC), 2.5mm LANC, Terminal for Included MA-400 Microphone Adapter, Grip Terminal, (2) 3-Pin XLR (On Included Monitor Unit), WFT Terminal, DC In, Accessory Shoe on Body, (3) - Accessory Shoes on Included Handle Unit
- Lens Compatibility: PL Mount (Lenses Not Included)
- Memory: (2) CFast Card Slots (for 4K Footage and Audio), (1) SD Card Slot (for Stills, Picture Data, Metadata, and Menu Settings Only)
- Built-In ND Filters (Off, 2, 4, 6, 8, or 10 Stops) Motorized
- WiFi Capable with Optional WFT-E6 or WFT-E8 Transmitter (Not Included)
- 4" LCD Articulating Monitor
- Weight: 4 lbs